Matt likes to watch chiropractor videos on YouTube.
I get to be the test subject.
I often find my arms pretzeled around my head, insisting aloud that I'm very, very, VERY not sure of this thing he's about to do, but he says I should really just trust him, and I can't argue with that.
A good relationship needs trust.
"Please trust that I'm really feeling like maybe you're going to snap my neck" is often what I'm thinking, and it puts me in a real tough spot because I'm also trying to work on trusting MYSELF, and trusting my body.
"I just need you to keep your hand on your hip and push back against my hand, trust me."
"I just need you to know that my body doesn't twist like that. Trust me."
"Just trust me."
"I'm really, really, kind of completely terrified. Please trust me."
"I trust you, but you should trust me."
And so on, and so forth. In circles.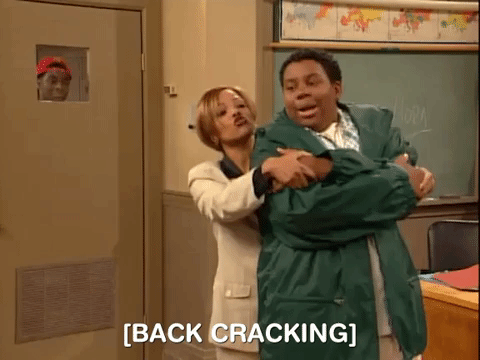 A simple hug likely ends with a warning: "TAKE A DEEP BREATH…"
And he squeezes so tightly that my back crackles like crushed rock candy.
Sometimes there is no warning, and the squeeze makes me pee a little and I wonder if it's the incontinence before death.
I love Matt very much, and I know he would never hurt me or try anything that he didn't think he could do.
Still, I often walk into the dark bedroom at night, ready to fall peacefully asleep to the sounds of "Forensic Files," and can't help but feel my heart drop when I see the little glow of light from the cell phone on Matt's side of the bed.
As I creep closer, I can hear it:
"…when you do this, gravity is going to help take it and traction open the upper back into the middle back and shoulder blades region…"
There is a tingle up my spine.
I like my spine. I hope it will be okay.
We've had honest conversations about this before. I tell him that sometimes I am afraid for my life. But I know he is a smart person. After all, he has a degree in physics—not exactly an anatomy badge (or a chiropractic license), but he is, at least, a man of science.
So I tell him I am relying on him to please, please, please just never attempt anything that could even remotely go wrong.
"Of course! I love you. I would never, ever do something that could hurt you. Half the time, I just want to try it out so I can teach you to do it to ME!
….You know, Jesse, you really just need to trust me."
I trust you.
To death.
My death.
Happy Valentine's Day.